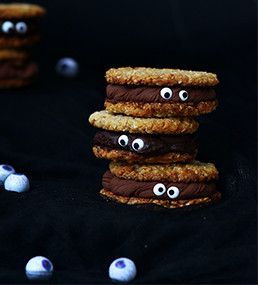 Family Fun: Halloween Treats
Get excited for Halloween by making some spooky, fun, delicious snacks and treats together. On the menu: Witches Fingers with Garlic Scabs and Red Blood Sauce (Marinara); Halloween Candy Bark; Ghoulish Mints; Pick of the Litter Box (hand-rolled Tootsie Rolls); Bloody S'mores.
Instructor: Chef Joel Olson.
Parent and Children 6+ years
1 lesson @ 2 hrs, $59/$54 MCC district residents (per person)
1312.223            Sa, 10/22             1-3 p.m.