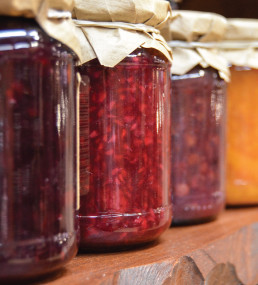 Gifts from the Kitchen
There is plenty of time to make meaningful, heartfelt holiday gifts from the kitchen. Learn about and help to prepare a huge variety of gifts, including Infused Oils and Vinegars, Flavored Sugars, Fruit Butters, Jams, Jellies and Marmalades, Pickled Peppers, Quick Breads, Yeast Breads, Spice Rubs and Blends, Homemade Marinades, Soup and Chili Kits, Liqueurs; Bath Salts and Soaks. A light meal will be served.
 1 lesson @ 3 hrs, Non-MCC District Resident Cost: $85
1322.222          Su, 10/30          1:30-4:30 p.m.