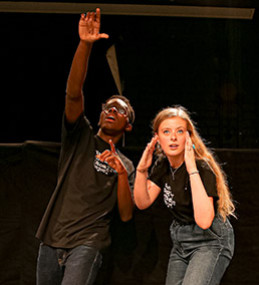 Improv for Teens
Improv comedy is a great way for teens to express themselves and gain confidence.
Focusing on creativity and teamwork, The Alden's improv comedy classes for youth teach improv fundamentals such as "yes and" in a supportive environment. Class participants will perform a class showcase for friends and family on the last day of class. This class is suitable for both beginners and those who have taken improv classes in the past.
12-16 years
8 lessons @ 1 hr. Non-MCC District Resident Cost: $145
3002.123          M, 10/17-12/12          7:30-8:30 p.m.
No lesson on 10/31.