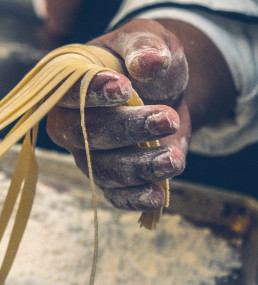 Kids' Pasta
Kids learn the basics of making egg pasta from scratch then learn how to make these pasta shapes: cavatelli (small hollow pasta shells); orecchiette (small, ear- shaped pasta); pappardelle (large, broad flat noodles); and quadrucci (little squares). Participants will then learn to make these delicious sauces: agloi e olio (olive oil, garlic and parmesan) and Alfredo (garlic, cream, cheese).
8-12 years
1 lesson @ 2 hrs, Non-MCC District Resident Cost: $68
1316.222          Sa, 10/22            12:30-2:30 p.m.