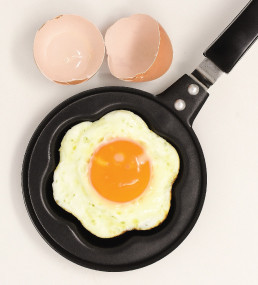 Parent and Child Breakfast
In this class, parents and kids will learn techniques and recipes to prepare a variety of dishes to be enjoyed by the whole family for years to come. Individual Classic Cheese Omelets, Maple Candied Ham Slices, Soft Scrambled Eggs with Cream and Cheese, Baked Sunny Side Up Eggs with Caramelized Onions, Apple-Stuffed French Toast with Apple Butter, Cinnamon Swirl Coffee Cake Muffins.
6 years+ w/parent or guardian
1 lesson @ 2 hrs, Non-MCC District Resident Cost: $124
Class fee includes payment for one child and one adult. $45, each additional child.
1313.222       Su, 10/23          2-4 p.m.