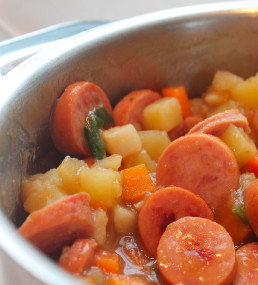 Soups, Stews & Casseroles
Just in time for those cozy early-winter warming suppers. On the menu: On the menu: Wild Mushroom and Wild Rice Soup with Truffle Oil, Curried Lentil, Tomato and Coconut Soup with Cool Cucumber Chutney, Spiced Beef Stew with Carrots, Mint and Couscous, Pizzoccheri Gratin (buckwheat noodles, cabbage and potato gratin), Chicken and Vegetable Pot Pie with Cheddar Biscuits.
1 lesson @ 3 hrs, Non-MCC District Resident Cost: $85
1323.222          Tu, 12/13          10:30 a.m.-1:30 p.m.
1327.222          Tu, 12/13          7-10 p.m.