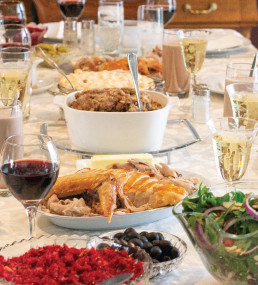 Thanksgiving Feast
Take the stress out of hosting a Thanksgiving Celebration with plenty of do-ahead Turkey Day tips. On the menu: Herb-Rubbed Roast Turkey Breast with Classic Giblet Gravy, Pecan and Herb Dressing, Heavenly Mashed Sweet and Russet Potatoes, Maple-Roasted Sweet Potatoes, Green Beans with Mushroom Veloute and Caramelized Onions, Cranberries with Port and Orange, Cream Biscuits, Cranberry Apple Tart with Cinnamon Crème Chantilly.
1 lesson @ 3 hrs, Non-MCC District Resident Cost: $96
1320.222          Th, 10/27           10:30 a.m.-1:30 p.m
1332.222          Th, 10/27            7-10 p.m.