"The Griegol" at The Alden
What's Creepy and Clever, Playful and Poignant—And Made of Smoke? "The Griegol"!
Something very spooky—and also amazing, moving and inspiring—is coming to The Alden on March 25: "The Griegol." The creation of Aotearoa/New Zealand–based theater company Trick of Light, "The Griegol" is a wordless(!) play running just under an hour, designed for teens but equally engrossing for adults (in the tradition of "Spirited Away" and "Coraline").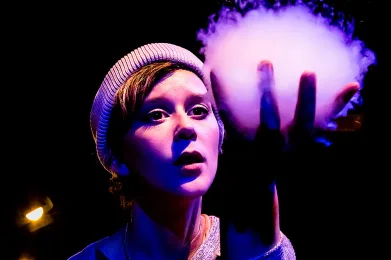 Harking back to classic fairy tales, the story is simple in its conception yet rich in emotional resonance and spellbinding in the telling: A child's grandmother tells her ghost stories of a shapeshifting smoke monster—the "Griegol" of the title. After the grandmother passes away, the child suspects that the Griegol is in fact real—and in pursuit of her family.
Through a singular combination of live acting, puppetry, stop-motion animation, projections, silhouettes, original music and inspired theatrical wizardry, Trick of the Light unveils this tantalizing tale as another, profound storyline emerges, about how children respond to grief—including the grief of their own parents.
"The Griegol" was commissioned by the Auckland Arts Festival and premiered at the Festival in early 2021 to glowing reviews in the nation's press. "Theatre Scenes" hailed "The Griegol" as "a show that returns to the basics of storytelling, letting the audience infer things about the characters and their emotions guided by the sights and sounds we are treated to," adding, "Charming, poignant, and expertly performed by a multi-talented cast, "The Griegol" is a unique theatre experience."
"Theatreview" noted, "The play's darkest moment gives way to the beginning of a new theme, beautifully played out in the story with a symbolic key unlocking love and connection…. All of this is juxtaposed against the connected technical expertise, acting and brilliance of the performance itself…. A touching, delightful and exciting theatrical experience."
You can enjoy a small sampling of "The Griegol"'s magic and mystery in this short video trailer.
But for the full effect, as with all good ghost stories, you have to join us on March 25 as the lights in the theater go down, the feeling of suspense fills the air, and "The Griegol" comes to life!
Trick of the Light Theatre:
"The Griegol" 
Saturday, March 25, 4 p.m.
This engagement of Trick of the Light is made possible in part through the Performing Arts Global Exchange program of Mid-Atlantic Arts with support from the National Endowment for the Arts with assistance from the Australian Government through the Australia Council, its arts funding and advisory body and the Embassy of Australia in Washington, D.C.