Alden 2022-23 Artist-in-Residence
The Alden at the McLean Community Center and Furia Flamenca Announce Partnership for the 2022-2023 Season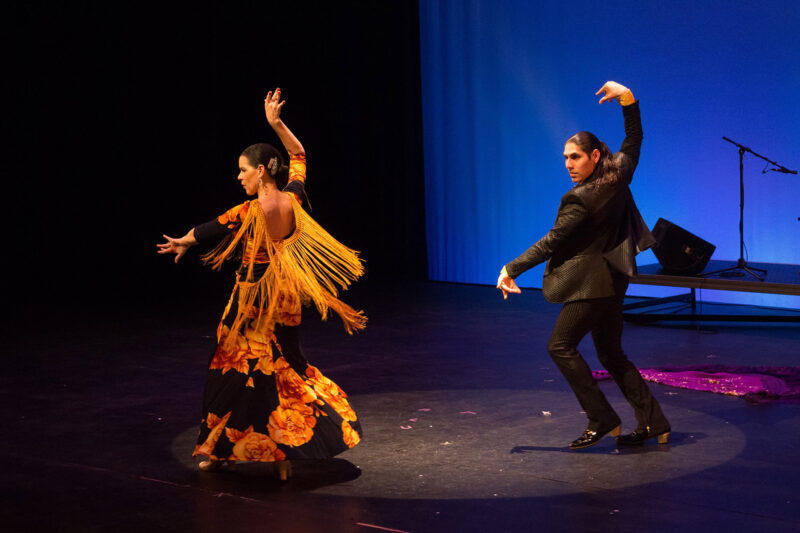 The Alden at the McLean Community Center (MCC) is pleased to welcome local flamenco dance company Furia Flamenca (FF) as its 2022-23 Artist-in-Residence. The partnership will involve a number of events that will be open to the public, as well as MCC's serving as an incubator for Furia Flamenca's work. During the residency, Furia Flamenca will perform and hold open rehearsals, workshops and lectures for the public, including a flamenco dance workshop for MCC's active seniors program, Seniors in Action. The theater is located at 1234 Ingleside Ave.
"Alden audiences absolutely adore flamenco and pack the house at Furia Flamenca's performances here," said MCC Performing Arts Director Sarah Schallern Treff "Even when we have presented other flamenco dance companies, we've partnered with FF to bring related programs. Estela's lectures on flamenco history and styles have been especially popular, and I can't wait to share even more of the company's great work with the community."
The first public performance will be an interactive Hispanic Heritage Month show for families at 11 a.m. on Saturday, Oct. 8, in The Alden. "A Trip to Spain" introduces children to flamenco music and dance, shares some of the art form's history and invites audiences to participate in flamenco-making. Tickets are $15, $10 for MCC tax district residents.
The residency grand finale will be "Recordando La Alhambra," at 7 p.m. on Saturday, June 3. The production combines choreography with  musical arrangements to highlight the common roots of flamenco, Middle Eastern and North African music and dance. Furia Flamenca will be accompanied by live music.
"We are incredibly excited about the upcoming residency at The Alden," said Vélez de Paredez. "The Alden embraced us at an early stage of the company's development. It was here where we presented our first theatrical production, "Lorca: Flamenco Poetry" in 2009, which went on to win two D.C. Metro Dance Awards. We are therefore excited to come back to the venue where we made our first big visions a reality, this time as a resident company. We look forward to continuing to educate our audiences on all aspects of flamenco and to returning to the Alden stage! We want to thank Sarah Schallern Treff for this amazing opportunity and for embracing us once again."
Furia Flamenca Dance Company was founded in 2004, and under the direction of Estela Vélez de Paredez has performed in some of the most prestigious venues and festivals throughout the area, including the Kennedy Center's Millennium Stage and Terrace Theater, Lincoln Theatre, National Theatre, Wolf Trap, the Washington Folk Life Festival, Cherry Blossom Festival, and National Dance Day.Their performances and productions have been recognized as some of the best in the DC Metro area with two Metro DC Dance awards in 2009 and five finalist nominations in 2012.
For tickets or more information visit: www.aldentheatre.org or call 703-790-0123, TTY: 711. For ADA accommodations, contact Patron Services Manager Evelyn Hill at evelyn.hill@fairfaxcounty.gov  or call 571-296-8385.
About The Alden
Built in 1975, the 383-seat Robert Ames Alden Theatre, "The Alden," is a cultural resource for the citizens of McLean and the Washington Metropolitan area that presents a full professional season of interdisciplinary and high-quality performances, lectures and educational programs for audiences of all ages.
Financial Assistance Available. The Alden firmly believes that the arts are for everyone. If you're a resident of the MCC tax district (Dranesville Small District 1A) and would benefit from financial assistance in purchasing tickets, please email Patron Services Manager Evelyn Hill  at evelyn.hill@fairfaxcounty.gov to learn how to access free and reduced-price tickets to Alden-presented events.
ADA Accommodations. The Alden is ADA-compliant and will make arrangements for accommodations. To request this information in an alternate format, call 703-790-0123, TTY: 711, or visit: www.aldentheatre.org.